All Melania Haters SILENCED With Just One Epic Statement!
Everyone agree that President-elect Donald Trump's wife, Melania, was the star in the New Year's party at Trump's Mar-a-lago Club in Palm Beach, Florida, USA. Wearing a D&G little black dress, the upcoming First Lady took everyone's breath away and owned the party. One of the creators of the stunning dress, Stefano Gabbana, took to Instagram and spoke of Melania Trump, boldly confronting all the haters.
Gabbana posted a photograph of the Trumps from the extravagant annual New Year's Eve celebration.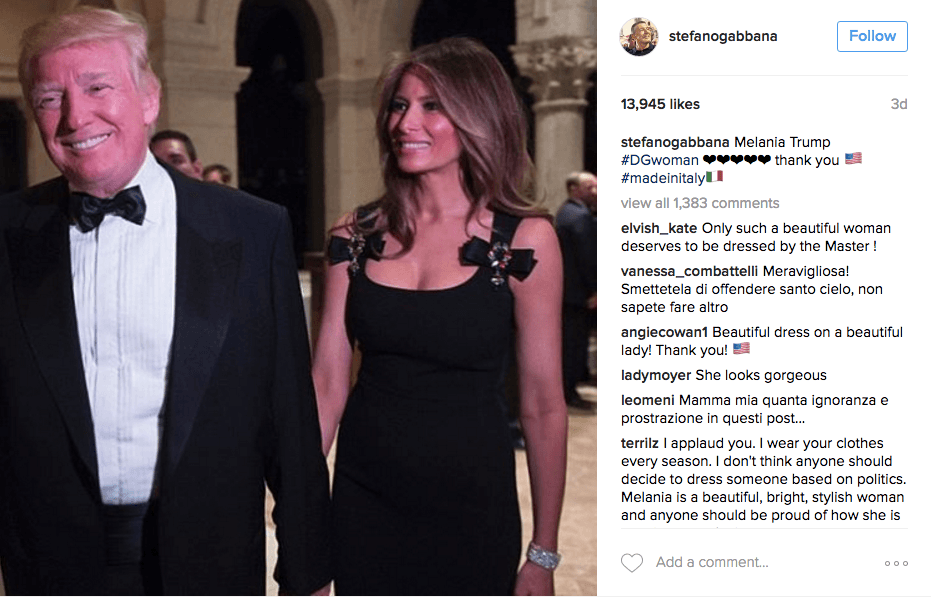 He captioned the photo: "Melania Trump #DGWoman thank you #madeinitaly," followed by several 'in love' emojis.
This statement caused many of their followers to swore they would never wear or buy their products again. One hater even compared Melania to Eva Braun, the well-known lover of Adolf Hitler.
"How many stupid and ignorant people r on Instagram!!!" Gabbana responded to the mean comment. "Please if you don't like my post unfollow me… thank you."
The liberal scare-off of the celebrities has spread onto designers as well, as many of them are leaning towards Hillary Clinton and Michelle Obama, so it has been a great subject of discussion about who will be dressing the future First Lady.
One of those hateful designers was Sophie Theallet who went one step further, lobbying to other labels not to collaborate with Melania Trump, reports World Politicus.
"As one who celebrates and strives for diversity, individual freedom and respect for all lifestyles, I will not participate in dressing or associating in any way with the next First Lady," Theallet wrote. "The rhetoric of racism, sexism, and xenophobia unleashed by her husband's presidential campaign are incompatible with the shared values we live by. I encourage my fellow designers to do the same."
When this post appeared, other designers, including Tom Ford and Marc Jacobs joined the liberal haters propaganda, while designers such as Tommy Hilfiger and Diane von Furstenburg openly expressed their willingness to create for the gorgeous Melania.
What do you think about this? Share this on Facebook or Twitter SCROLL DOWN FOR MORE
Source: Uconservative
CF